During the summer months the sun beats down on the roof of your home and heats the interior living spaces.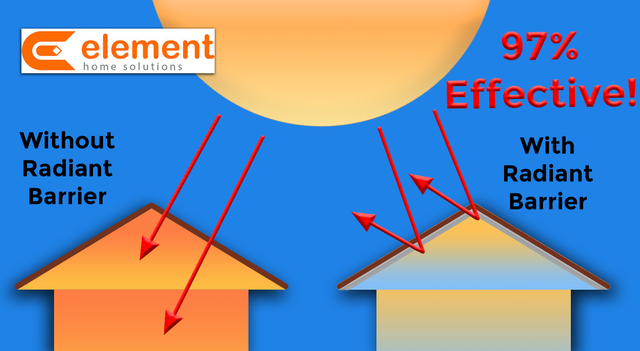 An air conditioning unit will have to work harder to cool your home if you don't have a radiant barrier under your roof to minimize the heat that penetrates the roof in the afternoon on a hot day. Your A/C unit can certainly eliminate some of this heat. But it will be more costly to run if your home is absorbing the energy from the sun instead of reflecting it away.
This is where a radiant barrier can help. A radiant barrier is a type of metallic insulation that is installed in your attic and reflects heat back outside where it belongs. This helps keep your home cool and can lower your energy bill in the process. A properly installed radiant barrier can reduce heat intake by up to 97%.
Here at Element Home Solutions, we have been installing radiant barriers in Bay Area homes for over a decade. We promise to give you and your home the respect you deserve by making appointments around your schedule, showing up on time, and finishing the job in a timely manner. We don't cut corners here, and we guarantee that you will be 100% satisfied with our service. We wouldn't have it any other way!
Element Home solutions Will Install a Radiant Barrier to Keep Your Home Cooler in Summer
Blocks up to 97% of the suns heat from entering your home
Lowers energy consumption and the cost of cooling during the Summer months
We will get the job done right, no exceptions
Timely service that fits into your schedule
Highly trained and friendly staff will answer your questions
Beat the heat this summer by calling Element Home Solutions today!