Bay Area Air Conditioning Installation and Repair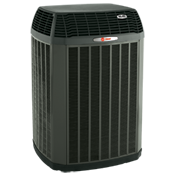 Variable Speed Systems
Variable speed air conditioner systems keep your home at the precise temperature that feels best to you. Your fan can be adjusted to any speed, which helps your system save energy and run more efficiently.
Two-Speed Systems
Choose between two cooling speeds with a two-stage air conditioning system. For everyday cooling, the "low" setting can help beat the summer heat. On hot days where you may want an extra blast of cold air, switch you unit's fan to "high."
Single-Speed Systems
Single-stage AC systems provide powerful cooling to your entire home. The fan in your air conditioner turns on when your home's temperature rises a degree or two, and automatically cools your living space back down to your comfort level.
Bay Area Air Conditioning Services