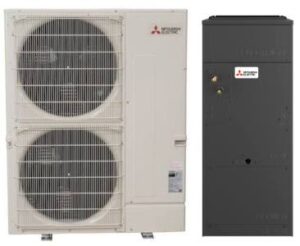 Mitsubishi Heat Pumps P Series – PVA
The P-Series Mitsubishi Ductless Mini split Mr. Slim unit delivers flexible and convenient cooling and heating solutions to almost any commercial or large residential setting.
Mitsubishi Heat Pumps P Series – PUZ
Designed to meet the needs of light commercial and residential applications, these single-zone systems are perfectly suited for mechanical/electrical areas where critical cooling is needed.
Mitsubishi Heat Pumps M Series – SVZ
The SVZ Multi-position Air Handler boasts best-in-class construction with a durable black ZAM finish, 1″ R4.2 insulation, and low cabinet leakage. The highly efficient EC motor features three different static pressure settings. Optional electric heat kits are available. This air handler unit features a built-in humidifier, ERV, and auxiliary heat control inputs. The SVZ is an ideal replacement for traditional forced-air systems or adding to new additions.
Mitsubishi Heat Pumps M Series – SUZ
The SUZ universal heat pump, with a Hyper-heating option, is a single-zone outdoor unit compatible with five different indoor unit types in a 1-to-1 configuration. This high-efficiency heat pump is compatible with MLZ EZ FIT® Ceiling Cassettes, SLZ Four-way Ceiling Cassettes, SVZ Multi-position Air Handlers, SEZ Low Static Horizontal-ducted, and PEAD Mid Static Horizontal-ducted units.