IQAir Perfect 16 Air Purification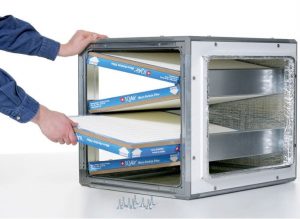 We are an authorized dealer of IQAir quality air filters. The Perfect 16 is the #1 Rated whole-house air purifier. The Perfect 16 fits seamlessly into your existing HVAC system. The installation process is simple and straightforward. We do the work and we guarantee air that is 10X cleaner. After installing the Perfect 16 in your home, you will never have to pay for air duct cleaning services again. That means you saving money. The Perfect 16 is powerful yet extremely energy efficient.
It can actually help you lower your energy bills by improving HVAC performance.
3-ton Perfect 16
5-ton Perfect 16
Capacity Rating

3 ton(1200cfm)
5 ton (2000cfm)
MERV Rating
MERV 16 @ 492 fpm
MERV 16 @ 492 fpm
Rated Airflow

1400 cfm
2000 cfm
Composit Average Efficiency
E1 (03.-1.0μm) = 96.7%
E2 (1.0.-3.0μm) = 97.7%
E3 (3.0-10.0μm) = 98.5%
E1 (03.-1.0μm) = 95.9%
E2 (1.0.-3.0μm) = 97.3%
E3 (3.0-10.0μm) = 98.3%
Pressure Drop
0.18 in H20 at 1,200 cfm
0.22 in H20 at 2,000 cfm
Media Area
170 sq. ft.
210 sq. ft.
Filter Life
3 years (50% duty cycle)
3 years (50% duty cycle)
Dimensions (LxWxH)
25.25″ x 21.25″ x 21.25″
29.25″ x 25.25″ x 21.25″
Weight
59 lbs. (27 kg)
74 lbs. (33.5 kg)
HealthPro®
#1 Rated system that can be upgraded later for gas & odors.
Features the same advanced HyperHEPA filter technologies as the HealthPro Plus, however without the gas and odor filter (V5-Cell). The HealthPro can be upgraded to include the V5-Cell at a later date.
HealthPro® Compact
#1 Rated compact system when gases, odors are not an issue.
Features the same advanced HyperHEPA filtration technologies as the HealthPro and HealthPro Plus, but comes in a smaller housing. Because there is no gas and odor filtration, airflow is maximized.
(Not upgradable to include V5-Cell)
HealthPro® Plus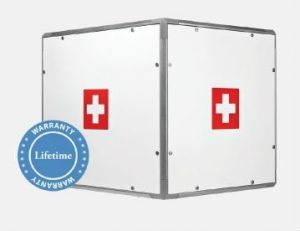 #1 Rated all-around compact stand-alone air purifier.
IQAir's best selling room air purifier. The award-winning HealthPro Plus features four advanced filtration technologies, including HyperHEPA filtration of particles of all sizes, plus V5-Cell advanced filtration of gases and odors.
Bay Area Air Conditioning Services